Spray n Grow shop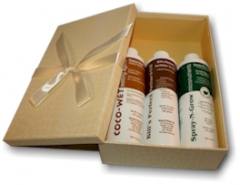 Gift sets plant nutrient

A celabration? Or just looking for a nice gift to say thank you? Give the perfect gift for gardeners and plant lovers. All nutrients plants need in a nice package.
The gift sets can contain the following products:
Spray n grow is an organicbased micronutrient complex that activates your plants. It stimulates growth and makes your plants healthier, greener, with more vibrant colors. It improves root structure, increases yields and improves overall fruit quality.
Bills fertilizer contains all nutrients your plants, flowers, shrubs, trees and houseplants need!
Coco wet is a wetting agent to reduce runoff and allow plants to absorb more nutrients.