Spray N Grow
Spray n Grow is as of now available again in Europa!
The top plant nutrition is directly imported for you from the USA.
As new distributor for Spray n Grow, we are happy to be able to sell to you the topproducts Spray n Grow, Bills perfect fertilizer and Coco Wet.
Spray n Grow Shop
Our new products
Special products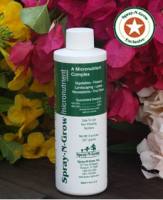 Spray N Grow fertilizer 8oz.

19,25 EUR
VPE: 8,16 EUR per 100ml